Learn it ALL Step-by-step
The Complete Redesign Course
LEARN FURNITURE REDESIGN
WATCH THE TRANSFORMATION OF A SIDEBOARD VIA VIDEOS
A Step-by-step Video Course - Short and to the point videos to walk you through the process!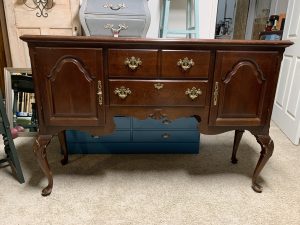 FOR YOU - AN INTRODUCTORY PRICE OF $57 >>>
WHAT WILL I LEARN?
PREP - cleaning, repair, hardware handling, sanding for tooth
PAINTING - eliminating brush strokes, highlighting, blending, framing
STENCILING - no bleeding, positioning stencil, easiest technique
RETIQUE IT - liquid wood to create a new grained wood look w/ graining tools
STAINING - water-based dye stain
TOP COATING - using water-based polyacrylic & oil-based wipe on urethane
Bonus Videos
STAGING - what photos to take & lighting
THE PREP TALK - the what, when and why of the different steps of prep
* Introductory price just for you - $57 for one year access to The Complete Redesign Course.