Module 5

Paint, Stain, Glaze, Topcoat Products - Explained

So Many Products to Choose From...

We are all different. We have had different experiences with different projects. No two projects are the same, nor do we all have the same vision for our piece.
Not all products will serve all of our needs. So let's look into what is out there for us to choose from.
You may not agree with the next flipper what is best to use, but that's OK. We are free to choose what we prefer and even love.
Milk Paint
True milk paint is made today with the same basic ingredients used for the past hundreds of years - milk protein, lime and earth pigments, that were found on furniture, walls and floors in country houses in Colonial America. The all-natural paint, once mixed has a short shelf life. Keeping it in the refrigerator will increase the life of the liquid paint, but not for more than a few days. Yet it can be stored in it's powder state for years as long as it's properly stored in air tight containers. Genuine milk paint is technically a calcium-caseinate. That means simply that it is made from milk protein, (casein) and lime, (calcium), plus the earth or mineral pigments.
There are casein paints of many varieties using additives like synthetic plastics such as acrylics, vinyls or acetates but they are NOT milk paints.
(Information taken from Old Fashioned Milk Paint)
Advantages of true milk paint: It is eco-friendly, great for mixing colors and achieving a unique look. It's a fun paint to work with. It's a good paint to use if you want a chippy look, yet can be used as well for all other techniques/looks. Stored as its original powder form and well sealed (to keep moisture out) will last for years.
Disadvantages of true milk paint: It doesn't last long once it's mixed up. You need to use either the safe paint formula or add a bonding agent in the first coat to help with adhesion if not used on bare wood.
Chalk Paint®
The original Chalk Paint® is a decorative paint developed by Annie Sloan over 25 years ago.
Chalk Paint® has amazing adherence properties, is very easy to work with and can either give you a traditional smooth finish or a textured finish that is easily layered and distressed. It works on old and new wood, metal, plastic, cement, bricks, etc.
TIP: Though Annie herself suggests you don't have to prep, we maintain it's safer if you do - better safe than sorry.
Many companies have formulated their own versions of chalk type paints that are quite effective and of high quality. You can find a list of many of those companies at the bottom of this page.
Advantages of chalk paint: It covers well, grabs onto the surface well, and if you want texture, this paint works great. It cures rock solid.
Disadvantages of chalk paint: It cures rock solid and seeps into the pores so much so that it is very difficult if not impossible to strip back to the bare wood if you want to restore/refinish to the original look. So if you are painting a piece that you may one day want to "unpaint" you might find that to be impossible. It is suggested to put a barrier between the chalk paint and wood like primer or shellac so it can be stripped in the future.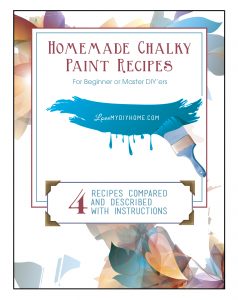 Homemade Chalk Type Paint
There are four popular recipes if you are interested in mixing your own. Click to download a PDF of the recipes compared and with directions on how to mix them properly here: 4 Homemade Chalk Type Recipes.
Advantages of Homemade Chalk Type Paint: It's cheaper than the boutique type of chalky paints to mix your own.
Disadvantages of Homemade Chalk Type Paint: It can be gritty if not mixed well, and can be hard or impossible to strip. POP (Plaster of Paris) is not eco-friendly and caution need to be observed when mixing due to health concerns.
Oil-Based Paint
Oil-based paint is more durable, but it takes longer to dry, and cleanup requires turpentine or paint thinner (mineral spirits). Oil-based paints are made with either alkyd (synthetic) or linseed (natural) oils. Alkyd paint is more common because it is less expensive and tougher. Oil-based paint is good for trim work because trim takes more abuse over time than do walls. Oil-based paints should never be poured down a drain. Disposal is regulated by local waste management agencies. Many cities have local hazardous waste collection centers that accept old paint and stain.
Advantages of oil are: It goes on smoother, covers more thoroughly in one coat, shrinks less, takes longer to dry so you have more working time, and is more durable.

Disadvantages of oil: It's more likely to crack, fade and yellow over time, fumes can be overwhelming, and cleanup solvents like mineral spirits and turpentine are necessary for washing brushes. Hazardous chemicals need to be managed carefully and are very toxic. Many steer clear of oil based products simply out of the inconvenience of dealing with clean up.

Latex Paint

Latex paint, a water based paint, is easier to work with but isn't quite as durable as oil-based paint. Latex is good for general painting projects such as walls and ceilings and many use it for furniture re-design. It comes in a number of different finishes, from flat to high gloss. Some latex paints also contain enamel, an additive that makes the dried surface harder and less porous. Since latex is made to expand and contract, it is not typically the most preferred choice.Advantages of latex: It is resistant to yellowing over time, more environmentally friendly, dries faster, easier to clean up using just soap and water, is more forgiving, and is more widely available than oil. It is fairly durable with low odor and has better mildew resistance.

Disadvantages of latex:

Gums up when sanded which makes it harder to distress.
Lime Paint
Lime paint is a mineral based paint made from quick lime and natural pigments. Greeks and Romans used it in their artwork, where they mixed earth colors with the lime plaster. Michelangelo used lime paint - it is once again becoming popular because of its use in faux effects. True lime paint is mold and bacteria resistant. Fresco Lime Paint results in an aged, natural look with unique shades and aesthetically pleasing strokes. Lime paint can be diluted to create various color variations through varied brush strokes and special brushes, typically used on textured walls to create an artistic and old-world look.
Advantages of lime paint: It's easier to achieve a unique look, eco-friendly with low or no VOC. The colors are vibrant and long lasting and the look is out of the ordinary.

Disadvantages of lime paint: There is a bit of a learning curve with lime paint since the lime acts like a free agent showing up in brush strokes randomly.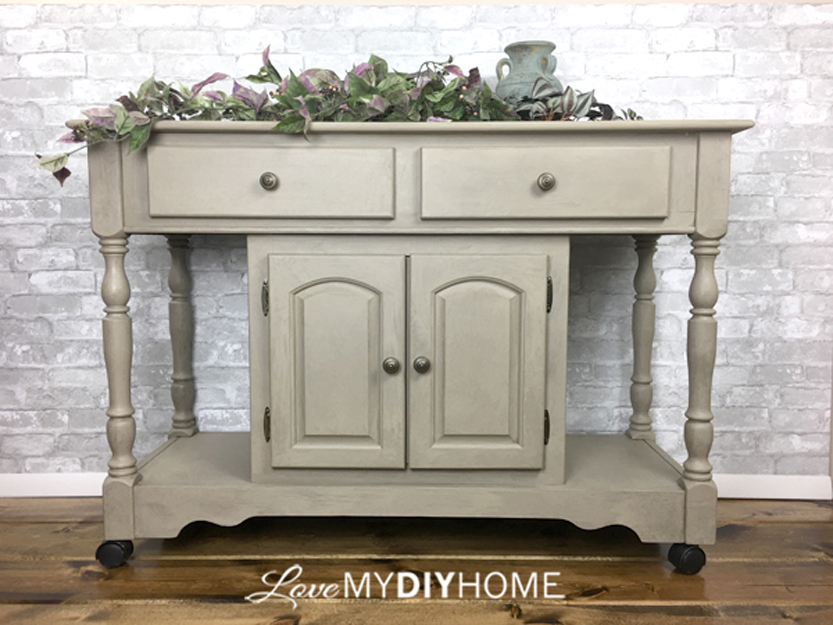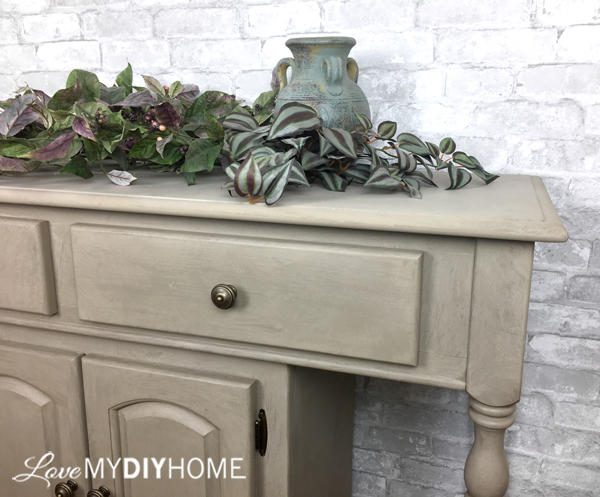 Acrylic Paint
Acrylic paint is known for durability, wash-ability, and excellent coverage. Most of your stencil paints you find in the hobby stores are acrylic. One coat is usually all you need and does not require a topcoat unless you distress the piece (which opens up the original surface).
Water Based Acrylic Alkyd Paint
New water based acrylic alkyd paints offer the application and finish of an alkyd with the non-yellowing properties of an acrylic.  This was developed as an alternative to the oil-based version of alkyd paint. The most popular alkyd paints are Benjamin Moore Advance and Sherwin Williams ProClassic.
Advantages of water based acrylic alkyd paint: A higher end product with low VOC, good adhesion, stain blocking and durability. You don't typically need a topcoat for Alkyd paints.
Pearl Effects/Metallics

Typically water based, these paints can be applied with brush, sponge, rag, or sprayed, etc. They can be applied for a solid painted look, dry brushed, layered, stenciled, stippled, glazed, etc. For solid coverage, paint right from the can. For specialty look, consider adding Extender and/or thinning to increase open time and make them more workable.
Brands vary for look, coverage and price. These are great paints to experiment with and to use to create specialty finishes.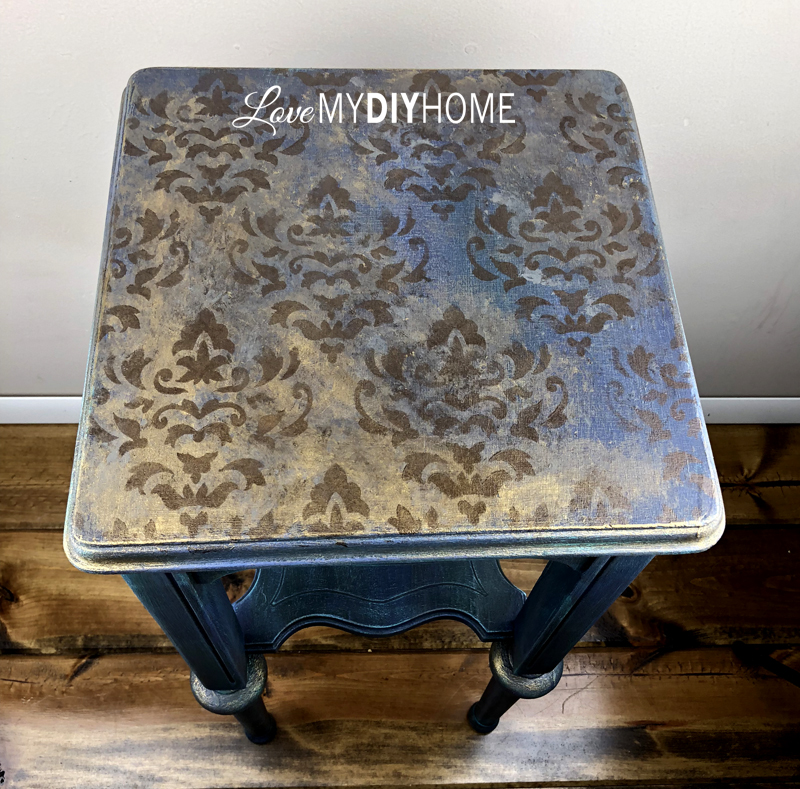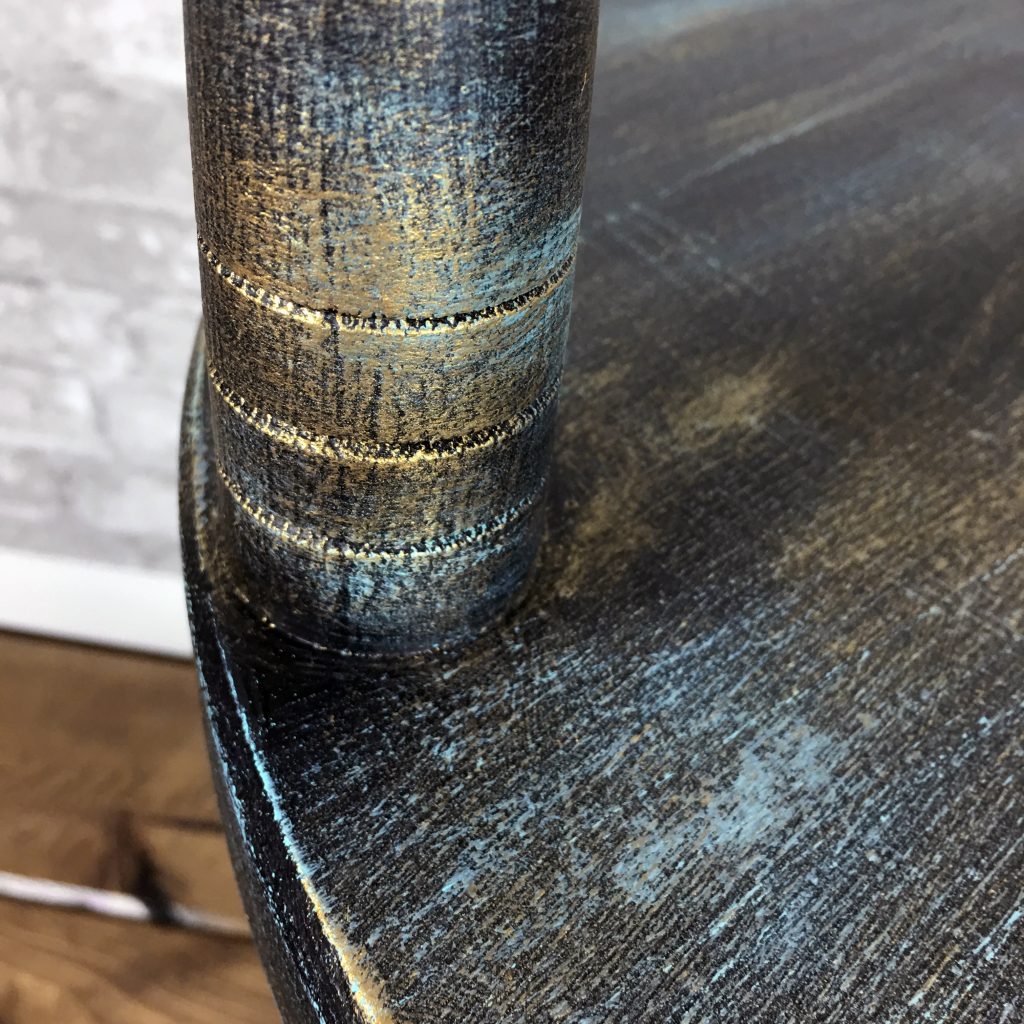 Mineral Paint
This is usually a water based acrylic and are considered highly durable. Similar to lime paint and milk paint in that it contains natural pigments, minerals from the earth for greater depth in color that endures better than the average synthetically tinted paint. The minerals in the paint are a bonding agent which helps the paint to adhere to multiple surfaces.
Advantages of mineral paint: Low or no VOC, good adhesion, stain blocking and durability. The colors are vibrant and long lasting.
Disadvantages of mineral paint: It's harder to distress if it has cured.
Glaze Types Explained
Glaze is a thin, translucent film of color that's painted over a base coat. If your base coat is flat, apply a thin topcoat prior to glazing. It is used to create faux and decorative paint techniques. Water-based glaze is easiest to work with and clean up and can be purchased already tinted or clear that you tint yourself with water based paint or stain. Typically, you add one part latex or acrylic paint to four parts glaze, some have been successful using other types of paint as well. Just add till you are happy with the outcome.
Darker paint colors may lighten when added to glaze, so you may need to add more paint than the 1 to 4 consistency if you desire a darker color, though adding more paint may lessen translucency.You will need a topcoat over the glaze once it's dry.

TIP: Paint the glaze on with a brush or roller, working in small sections and wipe off the desired amount to gain the effect you want. Dry times do vary, so practicing on a scrap piece of wood may be necessary when starting out. Expect the glaze to dry in 10 - 20 minutes. If more open time is needed, consider adding an extender like General Finishes Extender.

Stain - This would work nearly the same as glaze, though usually is an oil based product. Work in small sections, paint the stain on and wipe off after waiting about 5 minutes. The stain will get sticky or gummy if you wait too long to wipe off. Apply a topcoat after it's dry, about 72 hours after application.

Paint - Though many say it can't be done, you can use paint to give you the antique look. Paint it on, wipe it off, working quickly, leaving behind however much paint you want to give you the look you are going for. To see how I accomplished this go to one of my tutorials on Love My DIY Home: How to Upcycle an Antique Door.
Gel Stain can be used as a glaze. My favorite is General Finishes Java Gel. It's easy to work with.
(GF Video used with permission)
Stain/Dye Types Explained
Oil Based Stain

The  most common stains are oil based. Mixing different colors of stain is possible to vary the color, but you should avoid mixing different brands, for they may not be compatible.
TIP: Brush stain on using a brush specifically made for stain with the grain, covering the entire surface at once. Then take a lint free rag to wipe off the excess, working with the grain. Apply a protective finish after the stain is completely dry.
Water Based Stain

Water based stains dry faster, making them more difficult to use on large surfaces and since they are water based, they tend to raise the grain when applied which would then require sanding in-between coats. But the benefit is the ability to layer many coats to achieve a darker result.
Aniline Dyes
Aniline dyes are usually sold in powder form and are available in a wide range of colors. Furniture restoration professionals prefer this method of staining because they can be mixed to match any hue. Aniline dyes have a very short working time and are usually applied by spraying.
Unicorn SPiT can be used as a stain, paint or glaze. For stain dilute it up to 70% with water. For paint, up to 10% water. Glaze, dilute US up to 20% water.
Creating a Surface for Stain with Retique It
If you have a laminate, repaired wood or veneered piece, plastic, glass, whatever, you can still have the option to stain.

Use Retique It to apply a liquid wood layer. Add another and use a graining tool to create grain. Then stain. Look for Retique It in the techniques module.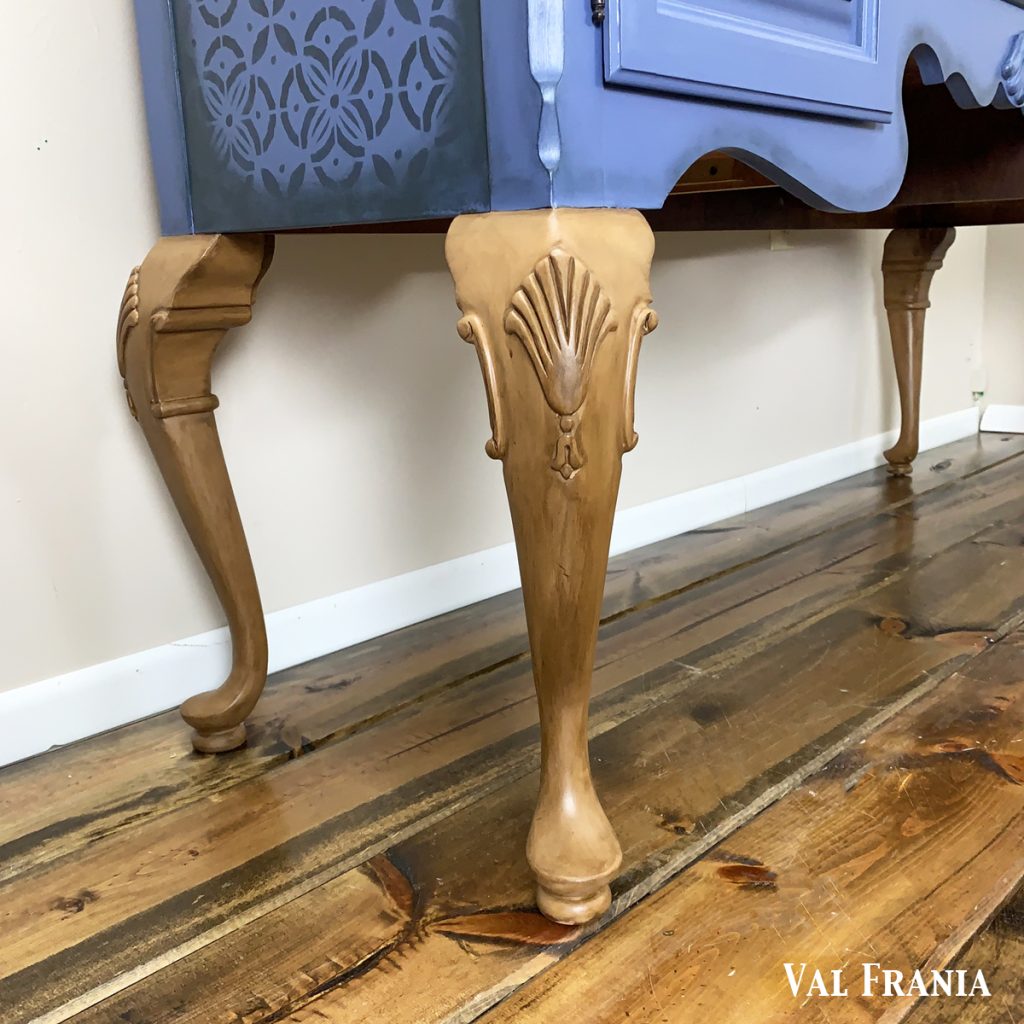 Topcoat Types Explained
Decorative Waxes
Many prefer waxes for a finish because of its velvety feel after buffing. It's recommended a piece be waxed every six months, but some artisans never reapply. Wax comes in clear and colors like browns and blacks for antiquing. It's best to apply the clear before using the colored waxes if used on a flat paint.
Linseed Oil and Tung Oil
These are drying oils most often used in finishing, change from a liquid to a solid through polymerization, a process that strengthens the cured finish.
For wood finishing, you should use only the boiled linseed oil. This oil is a penetrating finish and will penetrate wood fibers and harden.
Tung oil is available in a pure, unrefined form and also in a heat-treated or polymerized form, which is more durable and speeds up the drying time. It is more moisture resistant than linseed oil. Tung oil is also a penetrating finish and will penetrate wood fibers and harden.
Varnishes
Varnish cures by  polymerization like oils but more durable because it is made with resins. Oil-based varnish is the most durable finish and very resistant to water, heat, solvents and other chemicals.
Varnishes that contain a high percentage of oil are called long-oil varnishes. These include marine, spar or exterior varnishes and some interior varnishes. They contain a high percentage of oil and are more elastic and softer. A highly thinned and gelled version, called wiping varnish, is usually applied with a rag while regular varnish is typically applied with a brush or sponge.
Oil and Varnish Blends
Oil and varnish blends will dry a little harder than Linseed or Tung oils, and the finishes will build quicker with fewer applications.
Shellac
Shellac comes in the form of dry flakes, which are then dissolved in denatured alcohol, or in a liquid solution. The premixed shellac is available in orange (amber) and clear, which has been bleached. The premixed version contains wax which decreases the finish's resistance to water and prevents some finishes from bonding to it. You can also find de-waxed shellac. De-waxed shellac is what we use to block stains and tannins.
Shellac can darken over time. It was most popular prior to 1920, so we most often see it used as a topcoat on vintage and antique pieces.
Lacquers
Most professionals consider lacquer the best all-around finish for wood because it dries fast, gives a depth and richness to the wood, provides moderate to excellent durability (depending on the type used) and buffs well. There are several different types of lacquer, and they exhibit different performance characteristics. You typically see this finish on the Asian inspired or modern furniture.
Nitrocellulose lacquer is the most common and has a tendency to yellow as it ages. Acrylic-modified lacquer won't turn yellow over time.
Polycrylic and Polyurethane
Polyurethane is a protective finish that is available in both oil based and water based forms. It comes in gloss, satin and matte finishes. Water based polyurethane is low odor and low toxic and dries much faster. It is transparent as compared to the oil based version which has a slight amber color but is much more durable and gives a more definite shine. The oil based takes longer to dry and is highly flammable, toxic and you need good ventilation when using it.
Polyurethane is more resistant to heat, solvents and abrasions than any other varnish but the oil based polyurethanes will amber immediately or over time. Water-based polyurethanes are becoming popular among flippers because of the convenience of clean up. Some companies like CrystaLac guarantee no ambering with their water-based polyurethane. The most common use of polyurethane is over stained wood, though with the popularity of the water-based polyurethane rising, we will be seeing it used much more among artisans.
Polycrylic is water based and available in high gloss and satin finishes. It has faster drying times and works well over water based wood stains. It is the go-to for most artisans because of its easy clean-up, durability and clear finish, with polyurethane coming in second.
Spar Polyurethane/Urethane - this is a product recommended for high use areas where you need super protection like bathroom countertops and tables.  It comes in oil and water base. TIP: Two recommended products by FFB members are Deft brand, Water Based Polyurethane Urethane Interior/Exterior and the Minwax brand, Pro Series Spar Urethane Indoor/Outdoor.
Find What Works For You
Many things can affect the outcome of your top coat. It can be very frustrating at times. Find your favorite product and develop a tried and true method that fits you. I'm in the process of trying out different products and methods, but once YOU find one that servcs you well - stick to it!
Humidity, temperature, type of product, and method of application can all affect the finished look. To the left is a video I did talking about three products I used to get my desired outcome: 1. Minwax oil based wipe on poly in gloss (for durability), 2. Minwax oil based wipe on poly in satin (for a satin look but it streaked), and then ended up using 3. CrystaLac extreme protection water based polyurethane in satin to get the final desired look.
(used with permission 8.17.17)
"Creativity is allowing yourself to make mistakes. Art is knowing which ones to keep."
- Scott Adams